WE ARE PROUD TO SERVE COLORADO
ExperTech Environmental provides comprehensive radon services that are carried out by certified technicians, using advanced testing and mitigation equipment and techniques. Our knowledgeable team works hard to ensure the safety of their homes and businesses by providing thorough inspections, detailed reports, and effective solutions for reducing radon levels.
RADON Certifications & Affiliations
Being an NRPP (National Radon Proficiency Program) Certified company means that we have been thoroughly certified by a third-party organization, verifying our expertise and knowledge in the field of radon testing and mitigation services.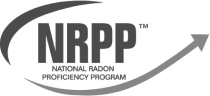 I called ExperTech for a mitigation quote and they came out the same day. I had a quote before they left and my system was installed just two days later! My radon levels went from 42 to 2.2!





After receiving extremely high results from a radon test on my home, I shopped around for a radon mitigation specialist. I am so glad I called ExperTech! I hired them to mitigate my home and they were able to install just two days later, it took them about 4hours to complete everything. They did a free post mitigation radon test and gave me options for a service plan that includes a forever warranty on parts and labor! I highly recommend ExperTech for your radon needs!